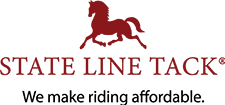 ---
Show Your 4-H Pride!
Join State Line Tack in appreciating and supporting 4-H youth. Together, we are empowering kids with the skills to thrive in life and career. 100% of your tax-deductible donations will help grow 4-H and equine programs nationwide.
State Line Tack guarantees a minimum donation of $80,000 to National 4-H Council through customer roundups from August 1, 2020 through July 31, 2021. Click here to learn more about how you can get involved in this partnership.
---
DONATE BY MAIL | ANNUAL REPORTS | DONOR PRIVACY POLICY
4-H is a 501(c)(3) organization.
Federal Tax ID: 36-2862206 | Combined Federal Campaign: 11119
Questions or Assistance
For questions about your gift, please contact 4‑H at
DONATEINFO@4-H.ORG or 301-961-2800.
National 4-H Council
7100 Connecticut Ave., Chevy Chase, MD 20815
© 1902-2021 4-H. All Rights Reserved. The 4-H Name and Emblem have special protections from Congress, protected by code 18 USC 707.
4-H is the youth development program of our nation's Cooperative Extension System and USDA.