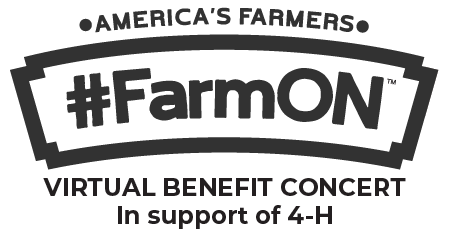 ---
Be there for kids when they need you most.
The isolation, stress and uncertainty of COVID-19 are too much for kids to handle on their own. They need opportunities to learn, they need connection and they need you.

Join Farm Journal and sponsors of the #FarmON Benefit Concert in supporting 4-H's FOURWARD Fund. 4-H currently serves more than six million youth across the country and, through the FOURWARD Fund, they have committed to reaching millions more. With your support, all kids will have access to the social-emotional support and learning resources they need to thrive during this challenging time.
Text "CLOVER" to 243725
Standard message & data rate may apply
DONATE BY MAIL | ANNUAL REPORTS | DONOR PRIVACY POLICY
4-H is a 501(c)(3) organization.
Federal Tax ID: 36-2862206 | Combined Federal Campaign: 11119
Questions or Assistance
For questions about your gift, please contact 4‑H at
DONATEINFO@4-H.ORG or 301-961-2800.
National 4-H Council
7100 Connecticut Ave., Chevy Chase, MD 20815
© 1902-2020 4-H. All Rights Reserved. The 4-H Name and Emblem have special protections from Congress, protected by code 18 USC 707.
4-H is the youth development program of our nation's Cooperative Extension System and USDA.